September 5 - 7, 2023
Exhibitor Summit & SPonsorship Showcase
The Exhibitor Summit & Sponsorship Showcase combines world-class education, with a whole lot of fun. During the Exhibitor Summit & Sponsorship Showcase you will:
Engage with Trade Show experts during educational sessions.
Jump start how you can stand out on the Trade Show floor.
Meet with NCBA staff including the Trade Show Team and Corporate Relations Teams.
Meet with suppliers including audio visual, catering, electric, floral, and more.
See Orlando from a new perspective during the city-wide Bites & Sites Tour.
Networking with your fellow exhibitors during unique and fun events.
A whole lot more!
New for 2024!
Exhibitor Summit & Sponsorship attendees will be given early access to registration and hotels. Exhibitor Registration will open at the Exhibitor Summit & Sponsorship Showcase for companies in attendance, then open for all other exhibiting companies September 11, 2023, at 12:00 PM Mountain Time.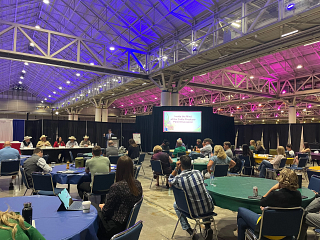 Hilton Orlando
6001 Destination Parkway
Orlando, Florida 32819
Agenda Highlights
Wednesday, September 6, 10:15 AM - 11:30 AM
Unpacking the Insights: A Deeper Dive into the 2023 CattleCon Attendee Survey
Joe Federbush, EVOLIO Marketing
In this educational session, Joe Federbush from EVOLIO Marketing Inc. will provide a detailed analysis of the 2023 CattleCon Attendee Survey, with a focus on how businesses in the cattle industry can attract and engage attendees. With his expert marketing insights, Joe will highlight the most significant findings from the survey and offer actionable strategies for businesses to leverage these insights in their marketing efforts. Exhibitor Summit attendees will gain an understanding of the CattleCon attendee behaviors, preferences, and interests that emerged from the survey, as well as how these insights can be used to inform marketing strategies. Joe will share real-world examples and case studies that demonstrate successful approaches to attracting and engaging CattleCon attendees. This session is a must-attend for anyone looking to stay ahead of the curve with invaluable insights that can help businesses stand out and succeed at CattleCon. Attendees will leave this session equipped with practical tools and insights that they can apply immediately to their marketing efforts.
THURSDAY, SEPTEMBER 7, 9:00 AM - 10:00 AM
Changing the Game: From Measuring ROI to ROE
Claire Lester, Design Studio Strategist Maritz Global Events
It's time to shift the conversation from measuring ROI to measuring ROE – Return on Engagement. The changing economy has shifted buying behavior, from customers buying transactionally to buying experientially. It's more important than ever to understand and learn how to connect with buyers on an emotional level through meaningful experiences and brand awareness. During this session, we'll talk about how designing the right experiences can enhance your brand and how you can build value-based connections with potential buyers.