Final Nashville Update & 2022 Booth Draw Information
Wednesday, July 14, 2021 10:00 am -11:00 am MDT
Tune in with us for the fourth edition of the Exhibitor Summit Series. During this session, we will be talking all things Nashville and getting those final pieces of news and information out that you need to know before you Tune in to Tennessee.
Topics:
Update of COVID-19 Regulations in Nashville
Information on 2022 Booth Draw
Current registration numbers
Countdown to CattleCon presented by Jefferson Davis
State of the Industry
Wednesday, June 16, 2021 10:00 am -11:00 am MDT
The third edition of the Exhibitor Summit Series will take place June 16, 2021, with the session titled State of the Industry. During this session, you will hear directly from NCBA's CEO, Colin Woodall about current markets and where the cattle industry is currently. We will also cover various topics to ensure you are updated on the latest news and updates regarding the Convention and Trade Show.
Topics:
Update of COVID-19 Regulations in Nashville
Update on 2021 floor plan
Current registration numbers
Update on the 2022 Trade Show in February
Health & Safety and Supplier Meetings
Wednesday, May 12, 2021 10:00 am -11:00 am MDT
As you start planning for the 2021 NCBA Trade Show, this session will allow you to focus on couple topics; ensuring health and safety of your staff and attendees, along with the logistics and ordering from our official show suppliers. The Health & Safety and Suppliers session will include a segment dedicated to tips for exhibiting safely, presented by RAM Trucks, a COVID Regulations in Nashville update, Marketing information, and a Supplier Speed Dating session. During the Supplier Speed Dating, Exhibitors will have the opportunity to have their questions answered by our Trade Show Suppliers. The Supplier Speed Dating portion of the event will take place on Remo - a link to access the Supplier Speed Dating Meeting can be located below.
Topics:
RAM Trucks presentation
COVID-19 Regulations in Nashville
Marketing Update
Sponsorship Update
Q & A
Supplier Speed Dating
Thrive on Live Webinar Replay
Click the link below to rewatch the Exhibitor Summit Series webinar Thrive On Live presented by Jefferson Davis.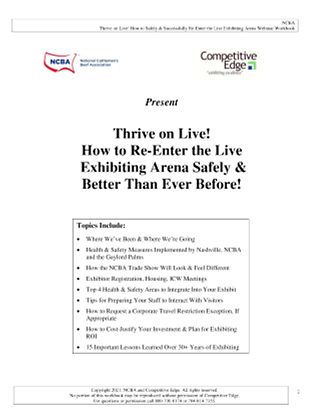 Thrive on live workbook
Click the link below to access the Thrive On Live session workbook.
THRIVE ON LIVE: How to Re-Enter the LIVE Exhibiting Arena Safely and Better Than Ever Before!
Thursday, April 15, 2021 10:00 am -11:00 am MDT
As we prepare to re-enter the live exhibiting arena, two major priorities for all exhibitors will be ensuring health and safety, and positioning exhibiting programs for productivity and return on investment in a new exhibiting landscape.
In this all-new exhibitor webinar, leading exhibiting productivity expert Jefferson Davis will discuss important things you will need to think about and respond to in order to execute a safe exhibiting program for your staff and your visitors.
Because your live exhibiting program has probably been "on the shelf" for a year and a half or more, he will walk you through the eight strategic areas of the Exhibit Marketing Process™ with the goal of helping you determine what areas you need to focus on between now and CattleCon21 to ensure that your exhibiting program supports your core business objectives and delivers measurable value beyond cost.
Topics:
Why We're Bullish About Our Live Expo
Health & Safety Measure Implemented by NCBA and the Gaylord Convention Center
Top 4 health and safety areas to integrate into your exhibit
How to Request a Corporate Travel Restriction Exception, If Appropriate
How to Cost-Justify Your Investment & Plan for Exhibiting ROI
Overview of the Exhibit Marketing Process™
15 Important Lessons Learned Over 30+ Years of Exhibiting
Tips for preparing your staff to interact with visitors in a late pandemic environment
Identification of the three most important areas you will work on over the next few months
Q&A with the NCBA staff and Jefferson
Session includes an electronic participant workbook.
Exhibitor Summit Testimonials:
"As always, a lot of work from NCBA staff has gone into making the 2021 Convention and Trade Show successful for exhibitors. I just hope things are at a point where we can have as normal an event as possible!"

"The Exhibitor Summit is a MUST for new as well as long term exhibitors!"

"All of the updates and discussion of this year's event was great and filled with useful information. Thank you!"
"Great information and quality presentations, as always."

"Job well done. 2021 will be an important show"