Hotels

It has come to our attention that several groups are trying to take advantage of our attendees and exhibitors through pirating scams. These groups are trying to sell hotel rooms for CattleCon24 without any relation to NCBA. Official Housing and Registration for CattleCon24 attendees does NOT open until 12:00 PM MDT on August 15th, 2023. At that time, you can register at: convention.ncba.org. Any emails or offers you receive prior to this date are not from NCBA and should not be trusted. We apologize for the inconvenience, and you can stick to our @cattlecon social channels and convention.ncba.org for all official updates. Beware of scammers, and please report any suspicious activity to: [email protected].
Hotel Accommodations
You must have a completed registration prior to booking hotel reservations. Reservations without a completed registration will not be allowed.  The hotel reservation cutoff is on Friday, January 5. Please make your reservations prior to that date. 
Host Hotels*
Hilton Orlando – Headquarters Hotel, $287/Night
Hyatt Regency, $285/Night
Rosen Centre, $265/Night
Rosen Plaza, $255/Night
Rosen Inn at Pointe Orlando, $149/Night
Rosen Shingle Creek, $275/Night
*Hotel rates listed are NOT inclusive of applicable taxes. Hotels listed are meant to provide an overview of all hotels potentially available. Hotel availability will constantly change, for an up-to-date view of current availability, please access the online registration & housing system.

Hotel Waitlist
If you would like to place a Wait Comment on your record for a hotel not presently available, you may email [email protected] after you have confirmed a hotel reservation at an alternate host hotel. Should a room become available, we will automatically make the reservation change and send a new confirmation.
Confirmation
If accommodations are reserved online, the NCBA/Orlando Housing Bureau will send an acknowledgment of your reservation by email almost immediately. Please check it for accuracy. If you do not receive an acknowledgment within 5 days, please contact the NCBA/Orlando Housing Bureau immediately at (864) 208-8395.
Changes
If you made your original hotel reservation using the online housing system you may revisit the online system to make any necessary changes, or contact the NCBA/Orlando Housing Bureau by mail at the address below, by phone at (864) 208-8395 to change your reservation until January 5, 2024, at 5:00 pm, Mountain Time.  NCBA/Orlando Housing Bureau
Attn: Reservations
5202 Presidents Court, Suite 310
Frederick, MD 21703
Housing Assistance & Special Requests
If you have technical issues while making your reservation online, please call the NCBA/Orlando Housing Bureau at (864) 208-8395. If ADA (Americans with Disabilities Act) special assistance is required, please indicate this on the hotel reservation form or directly notify the hotel holding your reservation. If you have other special requests (i.e., floor location, or close to elevators) please use the "Special Needs or Other Request" area on the reservation form. Or include a note to the housing bureau, stating your needs. Special requests cannot be guaranteed; however, hotels will do their best to honor all requests. Hotels will assign specific room types upon check-in, based on availability.
Cancellations
Your cancellation frees up a room for another attendee, so please cancel your reservation early if you will not be using it! There is no penalty for hotel reservation cancellations received by NCBA/Orlando Housing Bureau on, or prior to, January 5, 2024. All reservation cancellations received after January 5, 2024, will be assessed on a one night's room and tax charge as a cancellation penalty by the hotel directly, regardless of when the reservation was received. In addition, the hotel will charge an early departure fee for guests departing earlier than stated departure date. To avoid this fee, be sure you give your correct departure date when you check-in at your confirmed hotel.
After the Cut-Off Date
The NCBA/Orlando Housing Bureau will accept hotel reservations through January 5, 2024, at 5:00 pm Mountain Time based upon availability. After January 11, 2024, NCBA encourages you to call the official Convention hotels directly, as the hotels may honor our special discounted rates and may have rooms available.
Why use the NCBA/Orlando Housing Bureau?
Using the NCBA/Orlando Housing Bureau will save you money and time. NCBA has negotiated special room rates and room blocks to house Convention attendees. NCBA is financially contracted to these hotels for housing all convention attendees. If you book a room outside of NCBA's official hotels, you lose these exclusive benefits:

Rate Assurance: NCBA has gone to great lengths to ensure that your rates are the best over the Cattle Industry Convention dates and are only available to participants that book through our registration and housing site.

No Prepayment of Guest Rooms: The NCBA/Orlando Housing Bureau will not charge an advance deposit for any reservation.

Networking Opportunities: Stay at hotels with fellow Cattle Industry Convention.
Rest Easy: Know that we are ready to assist and protect you regarding any hotel issues that may occur before, during or after your stay.
Save Time: Online housing system for making reservations, changes and cancellations.
Waitlist: If you don't see your preferred hotel online, simply book a reservation at an alternate host hotel and e-mail the NCBA/Orlando Housing Bureau at [email protected] with your confirmation # and which hotel you would like to be waitlisted. If that hotel becomes available, we will revise your reservation and send you an updated confirmation.

Please Note: Host hotels will not honor direct reservations. You must book through the NCBA/Orlando Housing Bureau to enjoy these special rates and features.
Buyer Beware
Please be vigilant with any companies or services other than the NCBA/Orlando Housing Bureau (Maritz) that imply or claim an affiliation CattleCon. We have been made aware of other housing companies that may be aggressively pursuing you, or your organization, to book your sleeping rooms through their company at supposedly significant discounts.
Unfortunately, some past participants have fallen prey to these companies and have either: lost their significant deposits; been relocated with little or no warning; not had the sleeping room(s) they thought they had booked; or not received reservations at the hotel they thought they were confirmed. This can cause great hardships and significant financial loss to these companies and individuals. Reservations made through an agency other than the NCBA/Orlando Housing Bureau (Maritz) will be at your own risk. If you are contacted by another housing company attempting to sell hotel rooms, please notify NCBA at [email protected].
Airport
ORLANDO INTERNATIONAL AIRPORT (MCO)
Orlando International Airport
One Jeff Fuqua Boulevard
Orlando, Florida 32827
MCO is located 12.8 miles by car from the Orange County Convention Center – South Concourse.

Discount
Fly with United
CattleCon attendees are eligible to receive discounts on all published airfares on United Airlines. Apply discount code ZNQN697271 or click the button below to save on United Airlines flights to Orlando.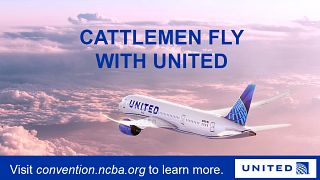 Discount
Cheap Airport Parking
CattleCon attendees can save 25% on airport parking at all major US airports when you reserve your parking through Cheap Airport Parking. Use code BEEF25 and select from their list of airports to find the reliable, hassle-free parking experience that won't affect your travel budget.
Discount
Drive with Enterprise/National
CattleCon attendees are eligible to receive a discount on rental cars through Enterprise/National. Apply the account number L12GF94 when booking your rental car for CattleCon24.
---