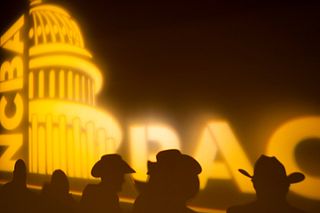 YOUR DOLLARS, YOUR VOICE IN WASHINGTON.
NCBA-PAC Reception & Live Auction
Mark your calendars for this exclusive event!
Tuesday, August 10th
GAYLORD OPRYLAND RESORT & CONVENTION CENTER
TENNESSEE BALLROOM C
8:30 P.M. - 10:30 P.M.
Current NCBA members and NCBA PAC donors are invited to join us for the NCBA PAC Live Auction and Silent Auction at the 2021 Cattle Industry Convention & NCBA Trade Show. Every voice makes a difference. Active engagement with the PAC sends a message straight to Congress and the White House that you care about our nation's cattle farmers and ranchers. Current NCBA members and NCBA PAC donors will be able to bid on incredible items and experiences. Ticket required - complimentary for current PAC Contributors.
Gardiner Angus Bull Credit
Win and earn an Angus bull of your choice with full ownership rights! As a family-owned seedstock operation, Gardiner Angus Ranch is totally dedicated to the production of quality beef from gate to plate. The Gardiners use their experience in beef cattle breeding, with state-of-the-art technology and data management, to produce Angus cattle that make unquestionable contributions to the beef cattle industry. As a family, they are optimistic about the beef industry and their role as seedstock breeders. Purchaser of this item can go out to Gardiner Angus Ranch located in Ashland, Kansas area to fulfill the bull credit. This bull credit is donated by Gardiner Angus Ranch.
Trophy Whitetail Hunt
This Trophy Whitetail Hunt is donated by Land of Giants (L.O.G) Kansas Outfitter is any buck hunter's dream. Join L.O.G. for an all inclusive five day, two person hunt in Reading, Kansas which is located only 1.5 hours from the Kansas City Airport. This hunt is redeemable anytime throughout the 2022 hunting season. With a 95% chance of a Boone & Crockett 140 class and up, you do not want to miss this experience. There will be no extra charge for a 180+ class buck and there have even been 190-200 class bucks harvested in recent years. Seasons:
Muzzleloader (last two weeks of September) Archery (Mid September – End of December) Rifle (First ten days of December)
50th Anniversary Custom Trail Box
This unique item includes a trail box that is made out of leather and perfect for holding your drink of choice. This package also includes four cocktail glasses that contain every NCBA logo since 1970. This item is a perfect staple to your game room/ kitchen area or the perfect sidekick for your next virtual meeting! This 50th Anniversary Trail Box was donated by NCBA – PAC.

Flag Flown Over the U.S. Capitol
USCMA Legislation signed by former President Trump

Navajo Pearl 60-inch silver necklace
Gator Hunt at beautiful Blackbeard's Ranch with Bill Booth