General Sessions Emcee BUZZ BRAINARD is back for CattleCon22! If you missed seeing him in Nashville, you will recognize Buzz as the weekday afternoons host of "The Music Row Happy Hour" Sirius XM on The Highway channel 56. You can also hear him mornings on Y2Kountry channel 61.
Tuesday, fEBRUARY 1
Opening General Session
A Conversation With George
SPONSORED BY: BOEHRINGER INGELHEIM

3:00 pM - 4:30 pm
The 2022 Opening General Session will pack a punch with Hall of Fame boxer, George Foreman.
Born on January 10, 1949, in Marshall, Texas, Foreman grew up in Houston's rough Fifth Ward district. A self-proclaimed thug, he dropped out of school in the ninth grade and ran with street gangs until he joined the Job Corps in 1965. The Job Corps provided Foreman with a connection to boxing trainer Doc Broaddus, who encouraged him to apply his fighting skills in the ring. Foreman adapted quickly enough that he was named to the U.S. Olympic boxing team for the 1968 Olympics in Mexico City, where he won the gold medal in the heavyweight boxing division with a second-round technical knockout of the Soviet Union's Ionas Chepulis. He went pro shortly afterward.
Foreman was a fearsome ring presence who brutalized opponents with his raw power. He won his first 37 professional fights before earning a shot at heavyweight champion "Smokin'" Joe Frazier in 1973, in Kingston, Jamaica. Foreman was an underdog against Frazier, but he shockingly knocked the champ down six times over the course of two rounds to claim the heavyweight crown. At age 45, Foreman knocked out Michael Moorer in the 10th round of their title fight in 1994 to become the oldest heavyweight champ in history. Ultimately, he finished with a professional record of 76 wins (68 by knockout) and five losses. Foreman was inducted to the International Boxing Hall of Fame in 2003.
Foreman is a familiar commercial pitchman, most famously for the George Foreman Lean Mean Fat-Reducing Grilling Machine which made its debut in 1994. These days Foreman tends to his ministry at The Church of the Lord Jesus Christ where he preaches four times a week. He also loves spending free time with his family on his ranch in Marshall, Texas. Foreman is a man of God and the father of 12 children.
WEDNESDAY, FEBRUARY 2
General Session II
State of the Industry & D.C. Issues Update
SPONSORED BY: ROTO-MIX

8:00 AM - 9:30 AM
From the White House to Capitol Hill to USDA, your NCBA policy team is proactively engaged in any and all discussions at the federal level that could impact your cattle operation. Over the course of a tumultuous year in Washington, we have stayed focused on a critical set of core priorities that are most relevant to our producers. Your lobby team has worked to improve the business climate, shut down proposed tax hikes, expand processing capacity, return market leverage to the side of producers, and promote programs that reward farmers and ranchers for their good conservation work.
Vice President of Government Affairs Ethan Lane will give a State of the Industry update.
Your policy experts will deliver updates on taxes, cattle markets, conservation, environment, animal health, trade, infrastructure, and more.
NCBA's PAC leadership will report back on the powerful impact your dollars are having on making our voices heard.
Join us for the DC Issues Update to receive a comprehensive rundown of the situation in Washington:
Your policy team lives and works inside the Beltway so you don't have to. Your operation may be hundreds or even thousands of miles away from Washington, but because of the work of our policy team, your voice is being heard loud and clear. No matter what party is in power or what story the media chooses to spin each day, our mission never wavers: show up at every meeting, attack every issue, talk to every decisionmaker, and make sure the best interests of the cattle and beef industry are NEVER ignored. We're proud of the grassroots policy process that guides our work, and we look forward to speaking with you in Houston. Join us!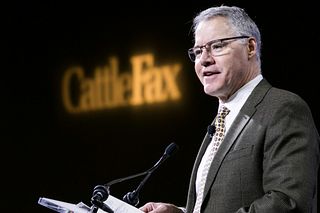 CattleFax will once again conduct their Outlook Session, highlighting demand and, supplies for beef, cattle and competing proteins. They will also present a price and profitability outlook for 2022 and beyond for all classes of cattle as well as beef. They will also explore export and import markets as well as a grain outlook. Meteorologist Matt Makens will give a weather forecast highlighting any changes occurring in weather patterns for the United States as well as the rest of the world in 2022.
THURSDAY, FEBRUARY 3
GENERAL SESSION IV
Beef: Here & There, Domestic and Abroad. A Discussion of Policy and Diplomacy.
8:00 AM - 10:00 AM
Plan to attend this new high profile session featuring government dignitaries to hear an update on the beef business climate both domestically and abroad. In this session you'll hear from the British Ambassador, Dame Karen Pierce as well as other invited guests.


The session will be hosted by NCBA's Vice President, Ethan Lane. This session is open at all Cattle Member Attendees and one session you won't want to miss.


THURSDAY, FEBRUARY 3
CLOSING GENERAL SESSION - BQA CELEBRATION OF EXCELLENCE
The Challenge of Change
Sponsored by BQA In Partnership with Beef Checkoff, Cargilll, and Sysco
4:00PM - 5:30PM
Plan to attend the closing session and help us wrap up the 2022 Cattle Industry Convention and with the BQA Celebration of Excellence. The BQA Awards recognize the best of the beef industry with the winners will leaving you inspired, motivated and proud to be a part of our great industry.
Drawing from personal experience, Joe Theismann knows how to deal with the challenge of change. On November 18, 1985, he was on top of his game—a two-time Pro Bowl player and the most productive quarterback in the history of the Washington Redskins. Later that evening, he found himself in a hospital bed with a compound fracture to his leg, shattering both his career and his boyhood dream. At age thirty-five, he was faced with starting over his personal life and professional career. Listen to Theismann's story to learn how to tackle change by keeping a positive mental outlook and committing to a vision that guides you to the top.
Theismann graduated in 1971 from the University of Notre Dame, where he received All-American honors in both Football and Academics. A 12-year NFL veteran, Joe played in 163 consecutive games from 1974 to 1985 for the Washington Redskins and holds Redskins records for passing yardage (25,206), completions (2,044) and attempts (3,602). He also led the Washington Redskins to a 27-17 victory over the Miami Dolphins in Super Bowl XVII. Theismann was selected as the NFL's Man of the Year in 1982 for his community service and dedication to the health and welfare of children. In 2003, he was inducted into the College Football Hall of Fame and in 2013 received the Walter Camp Football Foundation "Distinguished American" Award.
Gather your team and challenge them to attend this motivating and high energy event!